Hey everybody--it's time to share a few pictures from my adventures this past week. First of all, a week ago, I had a great time riding a limo around Vegas with Kelly, Dane, and Melissa. We started with a little pre-game happy hour in their room at the Aladdin, then after the limo ride we had dinner at one of my favorite spots, Binion's Ranch Steakhouse. Also that night we stumbled onto the set of CSI and got to watch them filming a little bit down on Fremont Street, mostly focusing on the fire escape outside of the Golden Gate and the alley between there and La Bayou. I didn't get to see my girl Marg, but we saw the guy with the beard climbing down the fire escape.
We did a little bit of gambling, also, but unfortunately the dice tables were horribly cold. I'm afraid that every game I tried to introduce Melissa to just cleaned us out--She's probably a confirmed slot player now. It's tough to enjoy playing craps and pai gow if you just keep losing every hand.
After we gave up on downtown, we headed back to the Aladdin for a little more gambling. I don't think they made much headway on the slots, but I managed to win almost all of my money back playing pai gow and blackjack. Before I left, Kelly loaded me up with some late Christmas presents--cookies, a rum cake, and a couple of new Jimmy Buffet cd's that I hadn't heard yet. It was a great visit!
They left for home on Friday, and after a couple of days of work my crazy-assed friend Angy showed up. We got together yesterday and just had a fantastic time together. First of all, she had some free comps to the Wynn buffet, so we had lunch there yesterday. Normally I'm not a big fan of buffets, having only eaten lunch at one buffet in all of the years since I've been coming to Vegas.
Well, this one was different--it was awesome. We gorged ourselves on shrimp cocktail, (and not those little Golden Gate ones, either--these babies were just shy of being called prawns!), creamed button mushrooms that we couldn't get enough of, spinach ravioli, grilled pork loin, some fantastic teriyaki skirt steak, and even thin crust pizza--that's just what I can remember. We loaded up twice before hitting the dessert bar, and everything was good. Nothing we had was sub-par or tasted bland. And another plus in my book was that they serve Coke, not Pepsi.
The desserts were excellent, also. We had a couple of chocolate eclairs, bananas foster ice cream, carrot cake, and some sort of fancy schmancy thing called a floating island. I'm not sure exactly what it was, but it sure tasted good. We ate so much that we just had to sit there and relax and try to digest a bit before we waddled out of there. Another thing I really liked about the Wynn buffet was that it the quiet and subdued atmosphere--not loud and echoey like in most casino buffets. Like I said before, I'm not a big buffet fan, but this one will get another visit--even if I have to pay for it next time.
On the way back to the car, we had to walk past the poker room--it was jam-packed as usual, and I saw a few familiar and famous faces. In fact, I literally bumped into Tomer Benvisitsi, the 5th place finisher in the 2003 WSOP. He's not a small fellow either, so our collision may have been recorded as a minor seismic event.
We scooted out of the Wynn and headed down to the Peppermill for the afternoon. Yeah, we noted the irony of walking out of a buffet and going to the restaurant that serves the largest portions in Vegas, but eating was not on the agenda. We parked ourselves at the end of the bar in the Fireside Lounge and played a little bit of video poker. Krista kept the chocolate/banana martinis coming, gratis of course, while we smoked and fed the machines.
Angy was having no luck at all, but I kept winning with video blackjack. So every time I'd put $20 in, I'd build it up to $27, cash out, give Krista the two bucks, then add the remaining $25 back into our gambling kitty pile there on the counter. I'd wait a few minutes and repeat. We didn't win a whole lot, but Krista made a fortune off of us--we sat there for almost three hours repeating the cycle.
Around 5pm or so, we decided to head back to my house so I could change out of my flannel lumberjack shirt into something more suitable for going out at night, and also Angy wanted to check her email and such. She said that, but I think she just wanted to check out the new sheets and such--I have a photo or two of her modeling my new bedroom ensemble.
We still had a couple of hours to kill--our plan was to meet up later that evening with longtime reader Andrea, who as luck would have it, actually lives here in Las Vegas. Angy had met her already, and told me that I would just totally love her. So we just kicked it there on the new bed for a couple of hours, watching tv. Looking for something to watch, we found a compromise and settled on
Out of Time
, Angy being a huge fan of Denzel Washington, and you folks already know my thoughts on Eva Mendes.
Eventually Andrea called me, and we decided to meet up at the bar downtown at the LV Club. She had a lowbrow moment when she pulled in, as the valet thought she was parking her car to begin her shift next door at Glitter Gulch. The patrons of the Gulch would have no such luck, because while Andrea is quite the hottie, she already has a job requiring her to keep her clothes on.
The three of us had a drink at the bar before deciding to get some dinner. We started off with the intention of eating at the Carson Street Cafe, but just after we got outside, we decided to go to the Triple 7 Brewpub over at Main Street Station, instead.
Dinner was excellent--Angie had a salad and some cheesy garlic bread (more like a cheese pizza), Andrea had a cheeseburger and fries, and I had a pretty damn good Asian Chicken Salad. We had a lot of laughs over dinner, then headed over to the Plaza.
We couldn't find any good tables at the Plaza--downtown was packed last night, so we ended up walking in and out of every casino on Fremont Street, all the way down to Fitzgeralds and back. We finally found an empty pai-gow table at the Fremont and camped out there for a few hours. Again, we had a lot of laughs--telling people that Andrea and I had just gotten married by an Elvis impersonator at the Graceland Chapel and that we were heading up to Wendover in the morning for our honeymoon--but we weren't winning much money. Andrea never saw a hand higher than Ace high. Angy, however, hit a straight flush once but didn't play the bonus, so her payoff was a little light for that hand.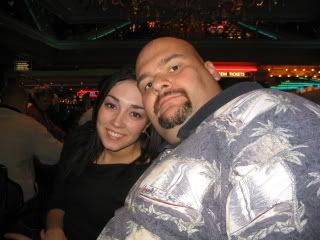 After several hours, the money was running out and the yawns were getting contagious, so we decided to call it a night. We wandered back to the Vegas Club to fetch our cars and said our goodbyes. While waiting for the ghetto sled, Andrea let me drool over her brand new 2005 Mustang GT. Yep, Angy was right--Hottie girl, badass car, she's a keeper! I just have to break her of that weird habit of licking Toby Keith posters...
I dropped Angy off back at her hotel, the Imperial Palace, then headed home for some much-needed sleep. Luckily I spent most of my day off in bed, because I just got confirmation that we're gonna do it all over again tonight. Maybe I'll have some more pictures, but I should definitely have some more stories.
Mikey