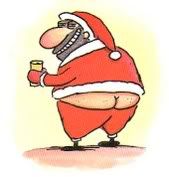 Behold--the power of music!
It's the holidays! One of the best times of the year. As much of a bummer it is that I won't be going home for Christmas, I'm still pretty sure that I'll enjoy myself here in Vegas. And with the twin miracles of cellphones and the internet, the miles between loved ones don't seem nearly as far as in days past.
Last year around this time I had a whole lot of time on my hands. The job was winding down and basically I spent my days at the office just goofing off and marking the hours until I left for good. One of the little projects that I did was to make a Christmas CD for all of my family and close friends. I even had labels made out of a Christmas card my younger sister had given me several years ago. I entitled it 'A Very Mikey Christmas' and it included the following songs:
The Hannukah Song

by Adam Sandler

Do They Know It's Christmas Time

by Band Aid

Happy Christmas (War is Over)

by John Lennon

Santa Clause is Comin' to Town

by Bruce Springsteen

Christmas Is The Time To Say I Love You

by Billy Squier

A Sailor's Christmas

by Jimmy Buffett

Blue Christmas

by Elvis

Christmas Island

by Jimmy Buffett

All I Want For Christmas Is You

by Mariah Carey

Baby Please Come Home

by U2

I Wish It Could Be Christmas Everyday

by Roy Wood

Last Christmas

by Wham!

Tender Tennessee Christmas

by Alabama
Those are some of my favorite Christmas songs (well, not Wham, but I had to throw a holiday cheese log on the fire), and I ended up keeping a copy of the cd in my car and listening to it
every
day during my 15-mile-each-way commute. The Christmas season ended at the same time my job did, and I never listened to the cd again.
Well, now that the holidays are upon us, I've started hearing Christmas music again, and just the other night while at work I heard four of the songs from that cd being played overhead in the casino. For a few brief moments it brought back a flood of good memories from my last days in Tennessee, along with it being one of the best Christmases ever. It put a smile on my face for the rest of the evening.
I can always count on making my sisters and nieces laugh out loud whenever I do my own version of Elvis'
Blue Christmas
, and
Tender Tennessee Christmas
has been a family favorite for years--I still get a little misty-eyed every time I hear it. I still love the MoTab cover of the
Hallelujah Chorus
, and I think the old Boston Pops version of
Sleigh Ride
is one of the best holiday songs ever recorded. Music like that defines the Christmas season, as far as I'm concerned.
So get yourself into the holiday spirit and put some Christmas tunes on. You'll be in a better mood before you know it.
Oh, and as a special gift to all of my readers, I give you the
wrongest Christmas ornament ever
!
Mikey