I wasn't expecting a full-on Vegas Vacation last week, but with my sister Cyndi and my brother-in-law David arriving in town, I knew I'd have a great time for a few days of living like a tourist.
In anticipation of their arrival last Thursday, I decided to park the Ghetto Sled and get some real transportation for the week, so my first order of business that morning was to cab it over to Thrifty and pick out a shiny new Chrysler 300. I got a rate of $161.99 for the week, which didn't seem too bad for such a sweet ride. I was in and out of there in about ten minutes total, during which time I fell in love with the air conditioning/electric windows/CD player that actually worked every time…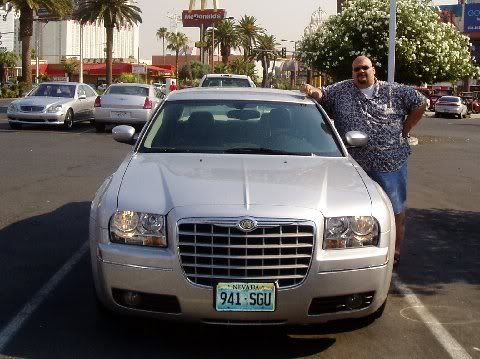 According to flightview.com, I had a couple hours to kill before their flight arrived from Nashville, so it was off to run errands and enjoy the gangster vibe of the rental car. First stop was back at the house to pick up the CDs and fuzzy dice (There are LOTS of Chrysler 300s for rent in this town, so the fuzzy dice always help me find it in the parking garages and as it would turn out, would help settle a dispute at the valet pick-up too!).
Now that the car was sufficiently Mikey-fied, I made a quick stop at the bank for some cash, then drove on down to the north Strip and parked at the Peppermill and ambled over to the half-price ticket outlet there in the parking lot. Three tickets to that evening's showing of The Tribute to the Rat Pack at the Greek Isles came to just about $90 with taxes and fees. No problem there—I'd seen the show before and felt it was a bargain at twice the price.
After the tickets were purchased, I drove over to Ellis Island to grab some lunch at the Metro Pizza outlet. First win of the trip—Thursdays are two-for-one, so my two slices came to less than three bucks. Of course I had an ice-cold homemade root beer from the bar to compliment my lunch, so for five bucks or so, I was a happy camper. Lunch went quickly, and I still had some time before I needed to be at the airport, so I stopped at Walgreen's to fill up the old Omaha Steaks Styrofoam cooler with bottled water, Gatorade, and ice.
I made a quick stop at home to check the flight status on the computer, and found out that their flight would be arriving about twenty minutes early! I was out the door a minute later, and pulling into the short-term parking garage about five minutes after that (yep, I live less than two miles from the terminal…)
I wandered down to the baggage claim to wait and saw that their flight had already arrived. While there, I ran into my friend Jen—the gal who introduced me to the heady pleasures of the ten-cent roulette and 99-cent breakfast at the Klondike. She was also waiting for a friend of hers to arrive on another flight that landed at the same time, so it was nice having somebody to talk to while I waited.
Cyndi and David showed up about twenty minutes later, having arrived at the gate furthest from the baggage claim, but their luggage arrived just about the same time they did.
We loaded up the trunk and were on our way, and as soon as we exited the parking garage and saw the light of day and the Strip in front of us, I had Elvis's Viva Las Vegas cued up on the CD player, so we did a lot of laughing and singing as we made our way down Tropicana. Being the astute Vegas-guy that I am, I took the old Koval-to-Harmon shortcut and shaved a few minutes off of the drive, and before we finished singing Hunka Hunka Burnin' Love, I was handing over the keys to the Paris valet, while the bellman loaded up the luggage and the cooler.
There was no line at all at the front desk, so check-in was a breeze. I'd given Cyndi the whole rundown about the P-rooms and the folded up twenty, and it worked like a charm. David handed over the Amex card with the cash not-so-discreetly hidden from view, and kindly asked if there were any upgrades available. Of course there were, and a few minutes later we were admiring the view from room 1725-P, a parlor suite overlooking the pool, Eiffel Tower, and the Bellagio. The view from the side window wasn't bad either—it featured the façade of the Aladdin, with the Monte Carlo just beyond, and the In & Out sign over on Industrial off in the distance.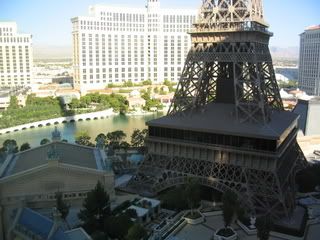 The luggage arrived a bit later, and after they unpacked we just decided to relax for a bit, have a drink, and do some catching up. I hadn't seen them since I left Nashville in February, and we're pretty close, so we had a lot of laughs while I filled them in on life in Vegas, and they filled me in on life with the rest of the family back in Tennessee.
The Rat Pack show was scheduled to start at 8:15 and it was getting late in the afternoon, so we decided to head over to the Venetian to do a little sightseeing and have some dinner. While the valet at Paris is quick and efficient, I have to say I'm less than impressed with the valet at the Venetian—it'd be much easier and faster to self-park, as you still have to wind around to the parking garage to drop off the car, then walk a country mile to the Grand Canal Shops. Hopefully the new construction will offer some sort of alternative, otherwise, I recommend just taking a cab to and from the Venetian, as it's the only way to get to the front door.
The first order of business was dinner, so we headed for one of my personal favorites—the Grand Luxe Café. The hostess told us it would be a few minutes before we could get a table, so we took a seat at the bar and ordered a round of drinks. Cyndi got some sort of frozen mango concoction, David opted for the manly Appletini, and I ordered a Mt. Gay rum & coke. The drinks were strong and tasty, and we didn't finish the first round before we got seated in the restaurant.
I knew what I was going to order, one of my favorite dishes in Vegas—the Asian Nachos! Of course that was just an appetizer, and I ordered the Caramel Chicken for my entrée. David ordered the lettuce wedge salad and a club sandwich and Cyndi had some ridiculously tasty lasagna.
The Asian Nachos were a curiosity to the table of chicks sitting next to us, so after a brief discussion and a hearty recommendation, they ordered some, too. I believe I was told that 'If I don't like these, I'm afraid I'll have to beat your ass…' Luckily the gals at the other table liked them and saved me from a beat-down.
Unfortunately, I'd forgotten that the portions at Grand Luxe were designed for five or six people, so by the time I'd finished the appetizer I was pretty full. I just picked at my Caramel Chicken and ate a few pieces (and of course played with the scoop of sticky rice that was formed into a huge 'boob' in the middle of the plate), but my heart wasn't into it, and I didn't finish half of my meal. Cyndi's lasagna, as good as it was, suffered the same fate.
David was generous enough to pay the tab, and we waddled out of there and into the casino. Of course, the $15 minimums at the Venetian are beyond what I'm willing to gamble so we just made our way to the Grand Staircase area so Cyndi could see the ceilings and such, having never been there before. The escalators weren't working at the time, so the stairs helped to burn off a little bit of the huge dinner we'd just eaten.
She was duly impressed with the art, the canal, and the gondolas, but I think her favorite part was the shopping. We did a lot of wandering and window-shopping, but the only purchase that was made was a couple of Partagas Black Labels there at the Davidoff shop.
It was getting close to seven pm, and we needed to get over to the box office and exchange our vouchers for tickets, so we said goodbye to the Venetian and took the gangster-mobile down to the Greek Isles.
As you can imagine, Cyndi & David weren't very impressed with the Greek Isles. It is truly a dump of the highest magnitude. For those of you that are curious, there are only about forty slot machines total and no table games in a casino that's not quite as big as a basketball court. And of course they had the worst lounge singer ever, "PAULL", warbling out the standards to an empty house over on the stage at the end of the room. It was truly a depressing scene. David and I wanted to get drinks at the bar and watch the NBA finals there on the TV, but Cyndi decided to take a chance on the lounge singer. She was back less than ten minutes later. I think she likened him to an out-of-work Wedding Singer.
As luck would have it, the guy who plays Sammy Davis Jr. in the show was sitting at the bar playing video poker, and Cyndi asked him if she could get a picture of them together, and of course he obliged, she being the youngest person by twenty years or so to ask in the past month. He started talking…and talking…and talking, and David and I managed to escape his gravitational pull, but Cyndi, being a super trooper, took one for the team and kept him occupied. It ended up working out well, as he invited us to be 'his guests' at the show.
Since we'd already bought the tickets, I was a little curious as to what that meant, but basically he took us in ahead of the line and had the maitre d' seat us down front and center before they started letting other people in. David took care of the maitre d', and we got the best seats in the house.
Of course the photo Nazis were out in force, making sure you couldn't sit and enjoy a drink without getting posed for pictures. Luckily we were first, so we didn't have to deal with it for very long. The waitress came around and we ordered drinks. Since it was an Old-School evening, I went for the Bombay martini and David had some Jack on the rocks in honor of Frank. I think Cyndi stuck with bottled water.
The show opened up with Joey Bishop doing his monologue, but this time it was a different guy, not Sandy Hackett, playing Joey. While he did an excellent job and had everyone laughing from the start, I didn't think he was as funny as Sandy Hackett. Of course, nobody else there knew the difference and thoroughly enjoyed his comedy.
The show was excellent of course, and I could tell Cyndi and David were really having a great time. The highlight for me was when Marilyn Monroe came out into the audience and decided to rub her hands and other parts of her body on my ol' bald head. Good Times! Unfortunately, I didn't get the lap dance, as she told me I was much too young, and she went off to tease another old gent…
Much too soon the show was over, but again the cast waited outside in the hallway for pictures and handshakes. This time I got a picture of Marilyn and me.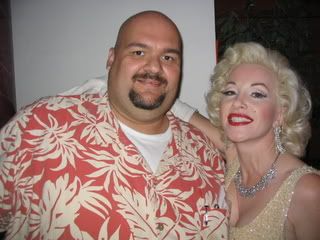 After meeting and greeting with the cast, I had to make a quick pit stop. I sure was glad I was wearing shoes at the time, because the bathroom floor was flooded. Another point in favor of the luxurious and sophisticated Greek Isles Hotel & Casino! Again I found myself feeling sorry for the cast and crew of the Rat Pack Tribute show because they have to perform in such a dump. They really should be playing in a nicer venue somewhere on the Strip.
After the show, it was over to the Fireside Lounge at the Peppermill to experience some more Old Vegas and have a drink or two. We sat in a booth in the back and ordered a few Mai Tai's and enjoyed the ambiance for a while, but all three of us were hitting the wall at the same time and exhaustion was setting in. I think we only had two rounds before Cyndi started dozing, so we paid the tab and made our way back to the Paris. I dropped them off out front and headed back to my house, and was passed out in bed less than five minutes after my head hit the pillow.
I was coherent enough to turn off my cell phone, and when I woke up there were a couple of messages from Cyndi wondering when I was going to get up and come back down to the hotel. David got up early and was out meeting with one of his business associates, so according to her last message, Cyndi was out lounging at the pool by herself. I took a quick shower, packed a small bag, and headed back to the Paris.
For those of you who may be interested, the Paris does not check for room keys to get pool access. I just took the elevator to the third floor and walked out carrying my bag, stopped and got a couple of towels, and found Cyndi on the far side of the pool, slowly roasting in the morning sun at the base of the Eiffel Tower. It was much too hot and bright for me that morning, so I suggested that we sit in the shade on the other side, closer to the building.
We set up camp in the shade, and shortly thereafter decided it was time to get a bite to eat. Luckily there was the Café du Parc close at hand, so we wandered over and sat down. I was feeling pretty thirsty and asked the waiter for a Corona. He suggested that I go with an entire bucket of Coronas if I was going to be at the pool for any length of time. Six for the price of five! SOLD! Of course when I found out that five Coronas cost $25 my enthusiasm was somewhat tempered, but when Cyndi said to just sign it to the room, that it would go on an expense account, I was happy once again.
We both ordered the Paris Wrap with fries, which was basically a cold turkey salad inside a tortilla, but it tasted pretty good and hit the spot. After lunch I took my bucket of Coronas back to my lounge chair and spent the next hour or so enjoying the endless parade of bikini-clad goodness. I got in the water a few times and was amazed at how cool it was despite being only 3 ½ feet deep.
Yes, the pool at the Paris may not have a lazy river or waterfalls or other such niceties, but it's big, it's clean, there are plenty of lounge chairs available, and there aren't many kids, which is always a plus in my book. I enjoyed it thoroughly.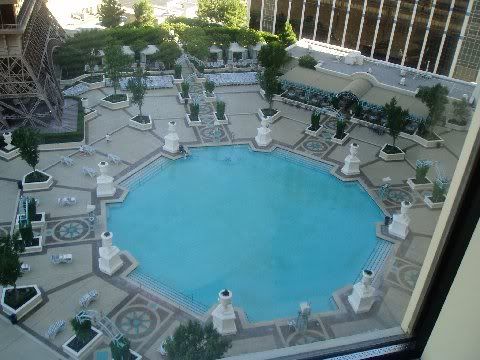 David showed up sometime later and joined us. By that time all of my beer was gone, but he said he was feeling thirsty after having 'worked' all morning. (I think he just went on a tour of a factory…). Well, the poolside cocktail waitress came along and I told her "I want the tallest Pina Colada you've got, made with the best rum in the cabinet!" David said he wanted the same thing. Cyndi just ordered a fresh fruit plate.
A few minutes later we were the center of attention as the waitress dropped off two 'Eiffel Tower' yards worth of pina coladas and a plate piled high with fresh fruit. I was expecting a weak drink, but no, the bartender was very generous with his pour. By that time the shadows of the building had receded leaving us out in the direct sunlight, so the frozen goodness coupled with the top-shelf booze was an excellent combination. Not only that, but the fruit they brought us was fantastic. Pineapples, grapes, melon wedges—it was all pretty refreshing. It was the perfect poolside snack.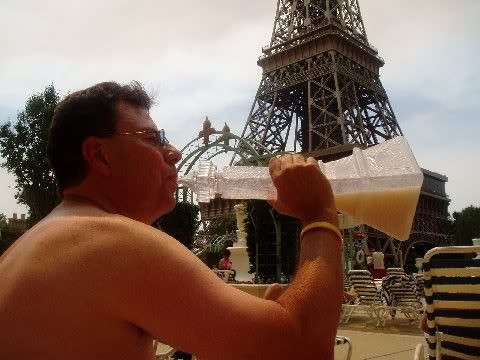 We got about halfway through our drinks when we started talking about what to do next. They wanted to do some gambling, so I suggested the Barbary Coast, since it was within walking distance. They liked the idea of gambling at the BC, but not the idea of walking, since David and I were pretty much in the bag by that point, and Cyndi had been out in the sun all day.
So we giggled our way back up to the room and dropped off all of our unnecessary stuff, then headed down to the cabstand. The cabbie was none too happy with our request to go a half a block to the BC, but since traffic was at a standstill, he managed to make a few bucks and we gave him a couple more for his trouble.
I suddenly remembered that we might see Big Elvis, as it was 3pm on Friday afternoon, so we stumbled over to the lounge first thing. Yep, The King Size was sitting right there on the front of the stage, so we went and talked to him for a few minutes before his show started. I guess his show doesn't start until 3:30 now, so we went to hit a few slot machines while we waited. Cyndi and I put $40 into the Triple Stars Wheel Of Fortune dollar machine and came up empty… Damn late Elvis…
We crawled back to the lounge, humbled, and enjoyed the first set of the Big Elvis show. Basically all we wanted to hear was Viva Las Vegas, and he didn't disappoint. After that it was off to the tables.
David and I opted for blackjack, while Cyndi hit the slots. 'Dragana' from Yugoslavia was putting the hurt on us badly, but Cyndi came back showing a cash-out ticket for about $400. We bounced from table to table, but couldn't get on a run at all, and I ended up losing another $40, while David lost somewhat more than that. We wanted to play craps, but they only had one $5 table open, and it was packed. We spent about three hours total there at the Barbary Coast, and had a great time even though we didn't win any money (Well, Cyndi did).
We decided to get some lunch, so we took a cab over to the Mirage. We were thinking that they had plenty of casual dining options, but found out that they didn't. Every place we went had a sign that said 'Proper Attire Required', and of course a T2V March Madness t-shirt and flip-flops just doesn't make the cut. We wandered around a bit before settling on the Caribe Café.
I had their BBQ meatloaf, Cyndi had their mac & cheese, and David had some sort of pasta dish. We all did the 'community plate' lunch and sampled each other's food, and I have to say that it was all pretty good. I really liked the mac & cheese—probably more than I liked the meatloaf, which is saying something, because it was damn tasty. As much as we liked our meals, the portions were way too big and most of it went uneaten. And of course we all agreed that as good as it was, it was still kind of a letdown after eating at the Grand Luxe the night before.
After lunch, we cabbed it back to the Paris, went up to the room, and everyone crashed hard. Between the sun and the booze, we were spent. I actually fell asleep on the floor for two hours before waking up and getting dressed for work. I left Cyndi and David asleep there in the room, and I took off at 8, heading for a long shift at the casino.
Traffic was so bad that night that it took me almost an hour to get to work—it was all I could do to get there on time. I ended up dealing blackjack all night and getting off at 4am, an hour early. I was still awake, so I checked email and such before going to bed around 5:30.
Unbelievably, I was wide-awake four hours later.
So I called Cyndi & David to see what was up and they were just sitting down to breakfast at the coffee shop at Paris. I told them I'd shower and such I meet them outside the front door about 45 minutes later.
I would've been on time, but traffic on Tropicana was ridiculous, especially for a Saturday morning. There's construction going on, and the usual airport traffic, but it seemed a bit extreme. Turns out that the slowdown was caused by a hooker walking along the side of the road trying to get a ride and every other car slowing down to see the goods. Apparently, she was a 'butterface', because while lots of folks slowed down to have a look, nobody stopped. I picked a bad day to be traveling in the right-hand lane.
I finally made it to the roundabout at the Paris (Look kids—It's the Eiffel Tower!) and picked up the rest of my entourage. We made a right turn and headed down the Strip, with our ultimate destination being Fremont Street. The whole way they regaled me with tales of their previous evening seeing 'KA' at the MGM. Apparently they had front row center seats for that show, too, and were amazed. They raved about it all weekend. I'll leave it to Cyndi's trip report to fill in the details.
We used the valet parking behind the Golden Gate, so that I could show them where I'd spent my 'formative years' as a dice dealer. We made our way inside and immediately walked up to the empty dice table and said hello to the fellas. David and I both bought in for a hundred and started rolling. We both had a couple of good rolls, and tried to set the example by making bets for the dealers, but the clowns that showed up after us offered nothing but an endless string of point-seven-outs which put a severe crimp in my bankroll. We stayed for about an hour while Cyndi hit various slot machines, but we all left a bit lighter in the wallet.
Of course the next stop was next door at Le Bayou for some beads and a ride on the grain train. Cyndi & David did not indulge, since it was before noon and the effects of the day before were still with them. I should've listened, but I'm a dumbass and ordered a yard of Mudslide.
All I can say is…. Ick!
For whatever reason, I was unable to drink it. I tried—didn't want to see eight bucks go to waste. I don't know if my body was pulling the same trick it does with salmon—I'd had too much in the past, so it rejects any more I try to offer it, or I was just too hungover without knowing it. Whatever the reason, I only had a couple of foul sips and left it sitting next to a slot machine.
Of course Cyndi thought she had a chance at winning the $10000 free slot pull they enter you in when you get the beads, so we had to sit around and wait for them to call some non-existing winning numbers. Luckily, we'd entered at the tail-end of the half-hour so we didn't have to wait long.
The next stop was at the Pioneer gift shop for some trinkets. David waited outside watching some Chinese theatre group pound on some drums, while Cyndi and I did some browsing. She found some suitable kitsch, but the checkout line was moving too slowly and she realized she didn't want to carry around any purchases for the rest of the day, so she left without buying anything.
After that, we crossed the street to Mermaids. I was feeling a little hungry and of course we wanted some more beads, and Cyndi wanted to try and win their drawing, too. So we took some pictures with the bead girls (well, we tried to get a picture with just ONE of the bead girls—you can decide which one—but the other one didn't want to be left out and managed to worm her way into the photo…) and went inside.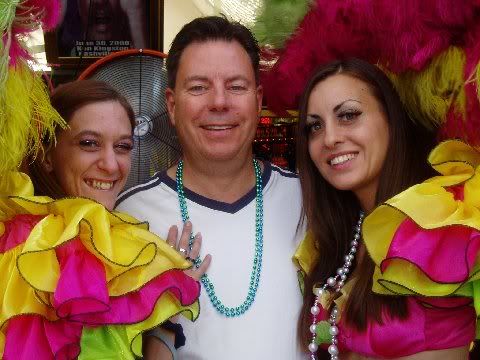 I've always been a little scared of Mermaid's culinary offerings—from the deep fried Twinkies and Oreos, to the chocolate dipped banana, something about the place just says 'Carnie Food' to me. But Cyndi wanted to try the chocolate dipped banana, and I opted for a couple of their 99-cent Hebrew Nationals. And they were damn good, too!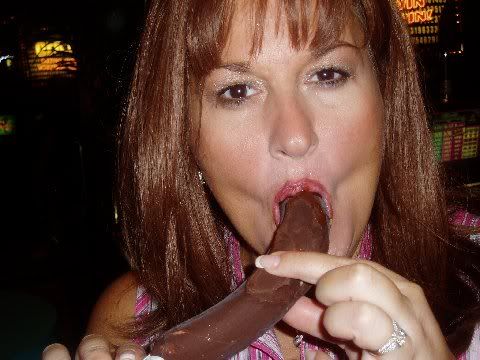 Oh, and by the way, a little tip for you Mermaids visitors—you CANNOT buy a bottle of water in there. Of course the girls at the snack bar and the bartenders don't know this—they will each direct you to the other to get it, but it is not to be had.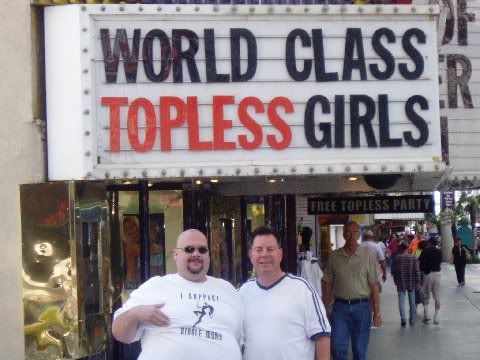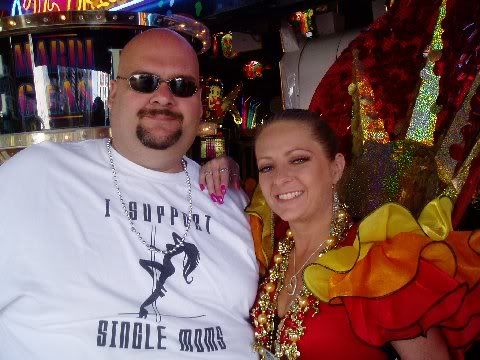 After our Mermaids adventure, it was time to visit the Horseshoe…excuse me, Binion's. I think somebody at MTR is remembering the old Horseshoe, because they've made even more changes in the three weeks since I'd been back in there. They put the craps tables up front near the entrance like they used to be, and took the carnival games out (or at least moved them). And they had three or four $5 games with 10x odds going.
We didn't play any blackjack there, so I can't comment about the current conditions, but the craps tables were just fine. David had a great roll to start us out and then a couple other guys held the dice long enough to overcome our losses and allow us to walk away with a bit of a profit. I think Cyndi even won a little at the slots, so everyone had a positive experience there at Binion's that afternoon, even though we didn't win the dollar Wheel of Fortune progressive. Somebody, however, had recently won the quarter Elvis jackpot, because we went to play it and it had just turned over to a hundred grand.
After we left Binion's, David and I decided that we wanted to play some blackjack, while Cyndi wanted some roulette. So off to the Plaza we went.
A few minutes later we were buying into their double-deck $5 game, and a few minutes after that I was walking away pissed off, having lost about eight hands in a row and having a $25 bet out and splitting eights against a dealer 5. I got an 18, an 11, which I doubled into a 19, and a re-split that I turned into a 20. So I had a hundred bucks out on the table with an 18, 19, and a 20 against a dealer five.
The dealer proceeded to turn over a nine for a fourteen, then got Ace, Ace, Five to wipe me out…
David got up right after that shaking his head in disbelief, and we made our way to the dice table. Luckily we got in right as one guy was going on a long roll and I made some of it back. Unfortunately, his rolled ended and we had a run of point-seven-outs that damn near reconverted me to being a Come-bettor only. Overall, it was a crummy day gambling at the Plaza.
One thing I really don't like about the Plaza is that they got rid of all the boxmen on the dice tables. So the dealers have to drop all the cash and do all of the coloring up. It really slows the game way down, but on the plus side, they make lots of mistakes in the players favor.
After our beating at the Plaza, we decided to try the Golden Nugget. We crossed Main Street and were hoping for some web-cam buffoonery, but I'd left my cell phone in the car, and couldn't call anyone to capture our picture.
David and I spent a few minutes in the lounge having a beer and watching some baseball, while Cyndi tried her luck on the slots. She didn't have much luck, as we only had one round down before she came back. They were hungry, so we walked over to the Carson Street Café for a bite.
I had chicken enchiladas, but for the life of me I can't remember what they had. I remember that we liked everything, but the portions were too much for us to finish. (Of course downing a couple of hotdogs earlier that afternoon didn't help).
They really liked the Nugget, and Cyndi told me that she liked gambling downtown more than on the Strip, so I think I've made a couple more Fremont Street converts. I think the next time they come to town, they'll probably stay there at the Nugget. Unfortunately, I was unable to share the pleasures of the El Cortez with them, so their downtown experience is somewhat tainted.
After lunch, we went back to the Gate and got the car back, and after a quick tour of the seedier side of downtown, I dropped them off back at Paris. I went home to shower and shave and get ready for work—I had long night scheduled again, but David told me that they'd catch a cab over to my casino to see me later that night. They had tickets to see Wayne Brady, so that's what they were doing that evening.
I was dealing blackjack again that night, and just CRUSHING everyone. I remember that after midnight I was on a particular table with a complete asshole on third base. He had a large stack of chips, both green and black, which isn't really memorable in and of itself, but his cheesy ponytail, earring, and huge fake rings were cracking me up.
The best part, however, was how pushy he was with the other players at the table, and a few were getting pissed off. At one point he even told one of the other players, a complete stranger, to take one of his purple ($500) chips to the cage and cash it for him, and the guy did it!!! Holy Shiat…if an asshole like that told me to do that, I'd smile at him, say 'Yes Sir, I'll get right on it', then go to the cage, get the cash and then head straight out the door, never to return again… Thanks for being a prick—that just cost you five bills… Here's your sign! What a tool.
Anyhow, the guy came back like a meek little sheep and gave him the cash, and of course the jackass didn't even say thank you or anything…
Well, doing my part to set the universe right, I started just busting this guy on every hand. He'd get an 18, I'd pull a 19. He'd get 19; I'd have two face cards. He'd get a three-card 21, I'd get a five-card 21. It was a thing of beauty to watch because he was not only losing his entire bankroll, but losing his mind, too. He kept betting bigger and bigger, chasing his losses and swearing and stomping around after every hand. He finally made a $250 bet with a green chip out front for the dealer. Blackjack! Thank you very much. I paid him his $375, dropped my $37.50, and then proceeded to bust him out of his next six hands in a row. It got so bad that he had to get a marker to double down one hand, and I still laid the smack down.
Let me tell you, from a dealer standpoint, it never felt so good to administer such an ass whoopin'. A couple other people at the table were so put off by his bullshit antics and cold cards that they decided to sit out till the end of the shoe, and I kept catching knowing glances and not-so-subtle grins whenever I'd make my hand.
Right at the end of my run, Cyndi and David showed up, and David sat down at first base. I changed him up for a hundred bucks before realizing it was him—I wasn't even looking at faces at that point. I tried to subtly waive him off, first of all because I'm not allowed to deal to friends and family (and my table was right in the middle of the pit, next to all the bosses), and secondly because I was just crushing the table. Luckily he only played four hands (and lost all four) before I got tapped out.
I went on break for twenty minutes, came back to my new table but Cyndi and David were nowhere to be found. Then just a couple minutes later I got tapped out again—getting to go home early. I went and signed out on the payroll and toke books, but couldn't find Cyndi & David anywhere. I finally called them and they told me they were getting a bite to eat, so I walked over to join them.
They were having hotdogs and fries when I walked up, and I filled 'em in on all the happenings at the table from before they walked up. Cyndi then told me that after I left the guy at the table was calling me every name in the book. That was nice. Sticks and stones, bro… Call me whatever you want, I still busted his ass to the tune of about seven grand. Heh! Take that, Bizatch!
Anyhow, we chilled out in the Fatburger for a little while, but then decided to go somewhere where I could gamble with them after they finished their hotdogs, since I'm not allowed to play the tables at my casino.
We made our way out to the parking garage and soon thereafter we were on our way down to the Klondike. Again, like the contrast between the Venetian and the Greek Isles, the move to the Klondike was quite a step down, indeed.
We braved the smokey haze that hovers in the place and made our way to the ten-cent roulette table. Unfortunately it was pretty full, with only seats for two available, and they weren't next to each other. Cyndi said she was feeling sick, so she opted out, while David and I bought in for ten bucks each.
We started betting numbers, but the sour old pitboss kept getting pissed because I was touching the glass next to the wheel, so after the third time he yelled at me I kept my elbow hovering above it like a kid doing the old 'I'm not touching you bit' just to drive him crazy…
The table wasn't much fun at all—there was truly an air of desperation to it, as it seemed that David and I were the only ones not playing with our last ten bucks. I managed to make about four bucks (a good trick on a dime table!) but I think David lost everything. It was too smokey in there, Cyndi was feeling sick, and the table wasn't much fun, so we split after just a half an hour.
I drove them back to the Paris, and they were thankful that they didn't have to cough up another $35 for cab fare. I dropped them off around 3:30 in the morning and headed back to my house for some much needed sleep.
The plan was for me to get back over and pick them up at 10:30, as David had to be at the airport around 11. But for whatever reason, I was wide-awake at 8 am, and called them up. They were already up and planning on breakfast, so I said I'd be down in a half hour or so.
It was early enough on Sunday morning that traffic on Tropicana was light, and there were no hookers on the sidewalk to distract the other drivers, so I got there in a hurry. They were waiting outside, David's luggage in hand (He had to get back to Nashville, but Cyndi was staying an extra five days for a conference).
In no time at all, we were cruising north on the Strip, this time heading to the Peppermill for breakfast. It was still fairly early, so we didn't have to wait for a table. I ordered the Chicken Fried Steak that came with eggs, hashbrowns, and toast (Of course I've never been able to finish it, but that didn't keep me from trying…). David ordered the sausage and eggs combo, again with hashbrowns and toast, and Cyndi opted for the fruit plate. I told them that they had no idea what they were getting into, and when the fruit plate arrived they were pretty much in shock. The thing is a huge platter piled high with all manner of fruit—Kiwi, strawberries, melons, apples, grapes—you name it, and it's there. I told Cyndi that five of us ordered one to share during March Madness and we didn't finish it, but that didn't keep her from trying. Of course David and I did what we could to help her, but it was a lost cause. She asked for a to-go box to take the leftovers in, and it took THREE Styrofoam containers to hold it all. Our meals didn't get finished either, but we gave it the ol' college effort before waiving the white flag.
Again David wouldn't let me pay for my meal, and we were on our way back to the airport. As you could imagine, it was a complete zoo that morning, and the Southwest check-in area is at the far end of the terminal, so we got to enjoy the traffic for an extra-long time. I had gotten online the night before after our Klondike excursion and managed to get David checked in and get him an 'A' boarding pass, so he was all set. We said our goodbyes there at the curb, and then Cyndi and I took off for new adventures.
We took the tunnel route out to I-15 and exited at Sahara, our next destination being that huge gift shop and souvenir stand there on the corner of LV Boulevard and Sahara. She had a shopping list about a foot long, so we were there for quite some time. I didn't see much that I really wanted except a beach towel that was printed like a craps table layout. That was pretty cool, but I resisted the urge to buy. Cyndi, however, found plenty of stuff to purchase and did some damage with the credit card.
The one thing I hated about the place was that it was full of screaming brat kids. There must've been 30 or 40 of them in there, all of them ill-behaved with parents you're more likely to see on COPS than Jeopardy. I can honestly say I doubt I'll be going back in there anytime soon.
Sometime during our shopping excursion we decided we needed to see another show while she was in town. I told her I thought Barry Manilow was over at the Hilton, knowing she'd like to see that, so our next stop was planned.
We parked the car with the valet there at the Hilton and made our way into the casino, stopping of course so Cyndi could mo-lest the Elvis statue in the lobby. By the way, the King took out a restraining order and Cyndi is no longer allowed within 150 yards of the Hilton, which works out ok because we then found out that Barry Manilow isn't playing there until the end of July, anyways.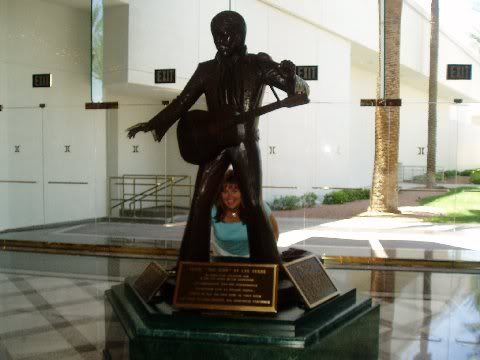 After getting shot down at the ticket booth, we decided to give the casino a try. I hadn't been inside the LV Hilton in a couple of years, but I've got to say they've made some major improvements. First of all, no 6:5 blackjack. Second of all, plenty of $5 and $10 tables. Third of all, 10x odds on craps! Yep, couldn't believe that one. I guess the Colony or whoever it is that owns them now decided to treat the players better than those clowns at Park Place or whoever it was that owned it for the past several years.
Anyhow, the $5 table was empty, so we walked up and I bought in for a hundy. I had a decent roll, made a few bucks, but then the stickman told Cyndi to shoot, so I put a bet on the line for her. Well, she had a monster! I started with just $16 inside and managed to make almost a hundred bucks on her roll alone. By the time she finished the table was full, and since all good things must come to an end, the most annoying player ever decided to squeeze in next to me.
You know the type, too loud, chain smoker, spits when he talks, and slows the whole game down making stupid-ass bets over and over again. [I]Gimme a $13 hard eight on the hop, two bucks on red, a five dollar Yo and a six dollar Hi-Low…[/I] Yeah, that type of idiot.
I only put up with him for a few minutes, and then decided to walk, coloring up for a profit of $185. We wandered the casino for a bit after that, hitting a few random slots, but no jackpots were found. It was time to head back to the Paris, so we went back to the valet and gave them our claim ticket and sat down on the bench waiting for the car to show up.
We didn't wait long before I saw our car coming around the corner, but the valet attendant drove right on by and went to the far end of the driveway. Before we could get there, another couple started putting their luggage in the back seat and tried to take the car. So I ran up and said, "Hey, this is my car!"
They looked at me like I was out of my tree, but then I pointed to the fuzzy dice and asked if they had a set in their rental car, too. Ooops! They apologized with a nervous laugh and took their suitcase out of my backseat.
After leaving the Hilton, we decided to head back to the Paris and try to find tickets to another show at their Travel & Tours desk in the lobby.
The check-in area was a bit more crowded on a Sunday afternoon, but the there wasn't much of a line at all at the tour desk. We decided on seeing Mama Mia at Mandalay Bay on Tuesday night, and got a couple of good seats for about $120 each. I thought it was a bit steep, but hey, it's Vegas, and I've wanted to see the show for a couple years now on Hoya's recommendation.
After we got the ticket vouchers, we took our stuff back up to the room and chilled out for a bit, having had quite the busy morning.
Cyndi had an opening reception for her conference to go to over at Bally's that evening, and up to that point we hadn't been anywhere in the hotel beyond the elevators to the rooms, so we decided to explore a bit and see what the Paris offered if we turned right getting off the elevators instead of turning left, with the idea of making our way over to Bally's.
We wandered the shops for a bit, looking at the menus at the various restaurants, and browsing the selection at the cigar stand in the corridor. I was most intrigued with the menu at Ortanique, being a Caribbean Soul and all, so I filed that away under 'Places I Must Try At Some Point In The Near Future'.
We finally found our way to Bally's and Cyndi went to the registration booth in the ballroom to pick up her goody bag and drink tickets, while I went to play some craps. I found a friendly crew on a $5 table and proceeded to make a quick $50 before she got back.
We wandered the casino a bit, dropping a few bucks here and there, but finally ended up at the Tequila Bar listening to some live Jimmy Buffett cover tunes and eating chips and salsa. I ordered a Mojito, which is an excellent Cuban answer to the Mint Julep, while Cyndi had some sort of frozen drink. We hung out there for about an hour, enjoying the tropical vibe, good music, and fine drinks. A great way to kill some time.
I was feeling pretty tired after that, and Cyndi had a cocktail party to attend, so I just went back to the room and crashed. I woke up a couple hours later when she came back, the first words out of her mouth being "Well, it's started…"
"What's started?" I asked.
Turns out that she had already gotten her first Indecent Proposal, and it was a doozy. Again, I'll leave it to her trip report to fill in the details, but it was funny and we got a lot of mileage out of it for the rest of the week.
We were in the mood to goof off a bit, so I got up and put some shoes on and we headed back down to the casino. We heard some pretty good music coming from the front of the casino, and there was a cover band playing eighties tunes to a small crowd. We found some seats on the side of the stage and enjoyed the show for an hour or so, while a ridiculously hot (to me!) Eastern-European waitress brought us strong but pricey drinks.
The band was a lot of fun, taking requests and getting the crowd involved with a memorable rendition of 'Knock Three Times'. Of course, nothing gets a laugh like the lead singer reading requests off of a cocktail napkin while some redneck in the crowd yells 'FREE BIRD!!!!', so it had to be done…
Sadly, Skynyrd was denied.
After the band finished their last set, we were kind of hungry, but it was getting pretty late. The only thing still open was the Le Café Ile St. Louis, the Paris' coffee shop. There was a short wait for a table this time around, but after a few minutes we were seated out on the 'patio'. The menu looked pretty good for a coffee shop, much better than your average fare, with plenty of French offerings on the menu. Cyndi ordered the French Onion Soup, which I tried, and it was excellent, and I had some dish called Coquilles St. Jacques something or other, which was basically scallops in a mushroom cream sauce topped with parmesan mashed potatoes and baked like an individual casserole. Sort of like a classier version of shepherd's pie, and it was fantastic. The meals came with a basket of sliced baguettes and butter, too, and I liked the fact that the portion was normal-sized, so I was able to finish all of it, as rich as it was. It was a nice surprise, having a meal that good when I was expecting run-of-the-mill sandwiches and salads. Overall, we were very impressed with the Café.
After dinner, we finally made it back up to the room. Housekeeping was kind enough to bring up a rollaway bed for me, and I passed out in front of the lights of the Eiffel Tower and the fountains of Bellagio. Of all the places I've passed out in Vegas, I'd have to say this was the nicest. It certainly beats the sidewalk out in front of the Golden Nugget, that's for sure.
I got a good nine more hours of sleep and woke up feeling much better, but pretty hungry. Cyndi was off to her meetings over at Bally's, so I showered and got dressed, and then decided try the breakfast buffet that I'd heard so many good things about.
There wasn't much of a line at nine o'clock in the morning, so I was seated pretty quickly. The first order of business was to try the fresh-made crepes, so I found that station first. I ordered a blueberry crepe with a little bit of whipped cream on top, then hit a few of the other offerings for bacon, eggs Benedict, hash browns, fruit, pastries, etc. By the time I got back to my table, there was a pot of coffee waiting for me.
I had a nice leisurely breakfast, enjoying the excellent food (the blueberry crepes were incredible!) and catching up the important things with the USA Today Sports section (Cardinals up by 8 ½ games in the Central Division!). I made another pass thru the buffet and got a few more items to try, along with another crepe, this time it was the apple-cinnamon variety, and again it was excellent.
Breakfast at the Paris buffet is only $12.95 during the week, and if you think about it, it's probably the best breakfast bargain in Vegas. Any coffee shop is going to cost at least that much, and better places like the Peppermill or Raffles are going to cost much more. Hell, a ham and cheese omelet at the Peppermill is twelve bucks by itself! So if you haven't tried it yet, I give it an enthusiastic two-thumbs-up.
After breakfast, I went back up to the room to change into some swim trunks and grab a bottle of water, and then it was back out to the pool for a few hours of sunshine and relaxation. This time I found the Jacuzzi, which we had been unable to locate on earlier visits. It's tucked back in the trees behind a couple of the cabanas, and obviously it was hard to find because I was the only one using it at the time.
I went back to the room sometime in the early afternoon to take a break from the intense heat, and Cyndi showed up. She was pretty tired of her conference and the disorganization of the whole thing, so she opted to skip the afternoon session. So we decided to do a little bit of gambling and wandered the casino for a couple of hours. The problem was that I was stuck playing the coldest craps tables in the city. We walked back and forth between Paris and Bally's once or twice, and never found anything that paid off. Basically it was just a slow grind all afternoon and we didn't win a dime.
Cyndi had a dinner appointment at Alize at the Palms with some VIP's, so she had to get ready, and I was getting tired physically and tired of losing.
By that evening, the lack of sleep and mass quantities of alcohol and sunshine I'd consumed over the past couple of days were starting to take their toll, and I was spent. I couldn't keep my eyes open—Cyndi left for dinner and I fell asleep while talking on the phone to our sister Sherry who had called to hear about our adventures.
Cyndi came back a few hours later telling me all about her evening at the Palms, but I was still wiped out. I think we went downstairs and picked up a few snacks from the sundries shop and just sat around talking and watching TV until we both hit the sack.
Tuesday morning arrived pretty early, and we were both awake by 6:30. Of course we had slept with the curtains open enjoying the view, so the morning sun might've had something to do with it.
We turned on the news, watched a little SportsCenter, CNBC, and even a bit of VH1 before getting showered and dressed, and I managed to talk Cyndi into giving the buffet a try with me that morning, so we went downstairs and got in line. Luckily it was early and there wasn't much of a wait.
The food was excellent, as expected, and of course the first priority was a blueberry crepe. Cyndi chose for the cherry version. I guess we weren't nearly as hungry as we thought, because one trip through the stations was quite enough for both of us, but at least a managed to drink most of the pot of coffee that was left on the table, so I was good to go.
Cyndi had meetings scheduled all day, and I had some errands to do, so we said goodbye as she headed for Bally's and I headed for the valet. I made a few stops, and then went home to check email and do laundry and such. I was only home for about a half an hour when my gal Laura showed up and surprised me. We hadn't seen each other in about three weeks, so we spent the afternoon just 'lounging' around. Finally around 4pm we had to get up and get going, so she went to pick up her son at pre-school and I took off for Mandalay Bay to get our ticket vouchers exchanged.
I was a little frustrated when I got there, as I went to the valet, but I got stuck behind a jackass in an SUV that decided to unload all of his stuff in the middle of the driveway, blocking all traffic trying to get around him. Finally the bellman came to pick up all the bags and get traffic moving again, but then they guy decided to dump his cooler out all over the place and spend a few minutes chasing all of the cans and bottles that were rolling in every direction. People behind me started honking at him and he just kept getting more flustered, his kids were crying, and Momma was giving him The Look with her hands on her hips. Yep, that's what you get for bringing kids to Vegas and annoying everyone else. All I could do was laugh…getting pissed would've done no good at all. I hope there was a lesson learned somewhere in there.
Finally the poor schmuck got his luggage moved, his drinks and cooler picked up, and his family herded off into the hotel, and traffic started moving again. I was first in line and when they asked if I was checking in, I told them no, I was just getting tickets, and I was told that I was not allowed to use the main valet. I had to go around and use the West Valet in the parking garage by THEhotel entrance. I was a little pissed after all the obstacles overcome in getting there, but as soon as I dropped off the car, I realized that it was closer to the box office anyways.
I stood in line for a couple of minutes, then when I got to the front of the line, I was told I had to go around the corner to the Will Call window to make the exchange. Ok. So I got in that line. Once I got to the front, I was told I couldn't make the exchange because Cyndi's name was on the tickets. Nice. So I called her and told her I'd be back at Paris ASAP and we had to make a quick turnaround, as it was almost 5:30 and the show started at seven.
Overall, it was a very frustrating afternoon at the Mandalay Bay. I made it back to Paris in record time though, took a quick shower, got dressed, and we were out of there just a couple minutes after 6 pm. We got back to Mandalay Bay after hitting all of the stoplights perfectly, and actually had time to have a drink in the sports book before they started seating for the show.
As a bonus, the waitress dropped off our drinks and asked for our drink tickets. I told her that we didn't have any and were planning on paying for the booze. She then told me that she wasn't allowed to take cash for any drinks in the sports book and to 'just go ahead and take these', so I tipped her a ten-spot.
Our seats were in the front middle section, 13 rows back from the stage. Excellent location. There was a little pre-show drama as a group of about eight people had seats in the middle of the row, with a different group of four friends surrounding them. Unfortunately, the smaller group had three seats on one end, and one seat on the other. When the 'odd woman out' asked if they would all slide down one seat so she could sit with her friends, one grumpy old asshole refused, saying he paid for THAT seat, and dammit, he was gonna sit in it. What a dick. Couldn't be nice. Everyone around voiced their opinion of him, but he remained unfazed, and the gal had to sit next to him for the entire show, too, which I'm sure was fairly uncomfortable. We also comprised a normally-dressed island in a sea of purple dresses, as the Red Hat Society was in town that week, and several of them were taking in Mama Mia that night, also. As far as I could tell, they are a bunch of middle-aged women with purple feather boas and goofy hats that have all put their husbands in the grave. At least that's what we gathered from their conversations.
Anyhow, the show started with a bang, and it was quite enjoyable. There were a few good laughs and the music was excellent (all ABBA tunes), although 'Fernando' was strangely absent… Although I didn't like how the 'story' ended, I think that the best part of the show was the ending with the entire cast doing a medley of production numbers. The crowd was on its feet for that, singing along and dancing, and everyone left the theatre on a high note and in a great mood. I think I enjoyed the show more than Cyndi did, but as much as I liked it, I don't think it's worth $120. I recommend seeing it, but there's no need to spring for the expensive seats.
After the show, we were looking for dinner. I wanted to try Ortanique or Mon Ami Gabi back at the Paris, but I've made another Peppermill convert out of Cyndi and she wanted to go there. No problem, I figured it'd be much cheaper, and I can try those fancy joints anytime.
So, after we left Mandalay Bay, we drove down the Strip enjoying all of the nighttime sights as we made our way north to the Peppermill, windows down and Elvis tunes providing the soundtrack. It was a quintessential Vegas experience.
Dinner was excellent—I had the Conquest sandwich—roast beef, melted cheddar, onions, mushrooms, and peppers on grilled Parmesan sourdough. Cyndi had some fettuccini Alfredo. We didn't have cocktails with dinner, but I enjoyed a couple of glasses of 'Arnold Palmer' that Bazootch got me hooked on when he was out here in April. I don't know how I made it 38 years on this planet without discovering the refreshing goodness that is the iced tea/lemonade combo, but damn, I prefer that drink to just about everything.
After dinner we went back to the lounge for drinks, as my girl Krista was tending bar that night. She hooked us up with a couple of rounds, and we enjoyed the ambiance for an hour or so before heading back to Paris.
We did no gambling that night, so it was straight up to the room as we were both pretty tired after another long day.
The next morning, I was up early again, but Cyndi didn't feel like going out to eat. She had a conference call or something to attend, so after I got myself together I went back down to the buffet for breakfast. It was really early, and there was no line yet, and the restaurant was almost empty.
I decided to try other things and skipped the crepes, but paid a visit to the omelet station and then hit up the pastry bar, something that I hadn't really gotten to enjoy much on my other visits. It was a nice relaxing breakfast with coffee and a newspaper, and I realized that I could get used to living the resort life there at the Paris. I was never much of a fan of the place in the past, but the casino isn't bad at all (aside from the fact that I didn't win a dime there), the sports book is great, the restaurants are fantastic, the service was top-shelf, and we loved the room. Hell, I even enjoyed the pool quite a bit, and nobody talks about the Paris pool as being anything special.
After breakfast, I met up with Cyndi, and we headed down to the pool for a couple hours of sunshine and rum drinks. It was a pretty hot day out, but plenty of sunscreen and cold drinks helped make it bearable. And we got in and out of the pool every fifteen minutes or so, too. By mid-afternoon, we couldn't take anymore of the heat, so we retreated back to the coolness of the indoors.
We took another run at the casino, but two hours and a visit to the ATM later we were waiving the French flag of surrender. I'd go into details, but you know the ending—another point-seven-out or the dealer pulls a miracle six-card 21 with my max bet on the table… It was ugly, so my gambling was done.
Cyndi wanted to get some food, as she hadn't eaten all day, and it'd been several hours since my visit to the buffet. We were going to get crepes, thinking that Le Creperie was part of Le Provencal, since it's right there in the front of the restaurant, so we got a table. Unfortunately once we got the menus in hand, we found out that crepes weren't available—Le Creperie was just a stand for the foot traffic outside.
No problem—I was up for something different. Cyndi ordered soup and the Caprese salad—with the mozzarella cheese, tomatoes, and basil, while I had the Chicken Provencal. It was so good! It was a quarter chicken baked with a Parmesan crust, with a mushroom/chardonnay/artichoke sauce and roasted potatoes. Of course it came with the obligatory basket of baguette bread and butter, which I used to sop up every bit of the sauce that covered the chicken.
It was an excellent meal, and we even wanted to try dessert, having seen banana beignets on the menu. The waiter, however, steered us away from that and told us to try out the desserts over at the bakery down by the elevators, instead.
That was an excellent choice, as Cyndi had some sort of strawberry cheesecake thing, and I had some sort of torte with chocolate mousse and pistachio cream covered in dark chocolate. Oh hell yeah. It was the kind of dessert that causes women to remove clothing, it was that good. I highly recommend the bakery at Paris—the selection of sweets is mind-boggling.
After the big lunch and the rich desserts, we were pretty much suffering the effects of a food coma the rest of the afternoon, so we didn't do much besides lay around in front of the TV.
I had to work again that night, and Cyndi had another business dinner to attend, so packed my bag and left the Paris for the last time.
Work was tough that night, after living the life of leisure for three days, but luckily it was slow and I was out by 1am. As much as I enjoyed the rollaway bed at Paris, it was nice to be able to sleep in my own bed again.
The next morning Cyndi called just as I was leaving the house, saying she had already checked out at was downstairs waiting for me. I picked up her and her luggage out front, and of course she wanted her last breakfast in Vegas to be at the Peppermill. So we went back, for the FOURTH time in a week.
She had the Maserati omelet, while I just had biscuits and gravy. No Mimosas, Bloody Marys, or Screwdrivers for me—just coffee and milk this time around. Breakfast was excellent, if a little subdued. You all know the mood you're in the morning you leave Vegas—half exhaustion and half melancholy. That's the way we felt.
We had some time to kill, so we did a bit more shopping. We stopped next door at the souvenir stand for a few minutes, but found nothing good, so we drove downtown to the Gamblers General Store so she could pick up some cards and such. We did a lot of browsing and goofing off, but she made a few purchases. After that we said goodbye to downtown and drove up to my house to relax for about an hour before heading to the airport.
The airport wasn't nearly as crazy on Thursday as it was on Sunday, so dropping her off went fairly quickly. Then I circled around again and dropped the car off back at Thrifty, took the shuttle to the cabstand, and caught a taxi back to reality. My Vegas Vacation was over.
I had to work that night.
Mikey
Final Thoughts:
· French Bread. Ain't nuthin' wrong with that!
· Mermaids sells some of the best hot dogs in Vegas
· Go see the Rat Pack Tribute. You will love it.
· The casino at Bally's isn't nearly as bad as I remember
· The Hilton has really turned it around—it's always been a great hotel, but now they have a casino to match
· I didn't make it to the Binion's snack bar this time
· I'm a little worried that I was unable to drink a mudslide. I hope this isn't a permanent condition
· Mama Mia…great music, fun show, but not exactly worth the steep ticket prices
· I'm gonna stop taking people to the Peppermill—otherwise they want to eat there every meal.
· I talked to some folks in the hot tub one day who had seen 'Jubilee' at Bally's the night before. They loved it and said they liked it even better than Folies at the Trop
· I heard more mixed reviews of 'We Will Rock You'. Most of them went something like "The performers were really good, but the show was a little disappointing"
· We didn't do much gambling this time, which is probably a good thing given the luck we had. But I did manage to see two great shows and eat some fantastic meals
· If you're staying at Paris, get a P-room that faces the strip.
· Spot the Hooker is much easier to play at the Mirage than at Paris, at least in the middle of the week
· Napoleon's Lounge is a great place to kick back, have a drink, and enjoy a fine cigar